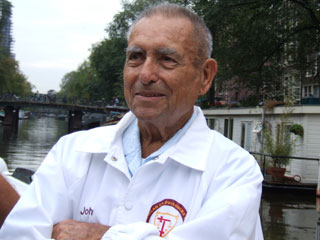 † John Tayloe 1924 - 2008
John Tayloe, a crew member of the bomber, passed away on February 6th, 2008. Shortly before Christmas 2007 he was hit by a stroke from which he sadly did not recover.
We remember him in thankfulness for his war effort and recently his stories and visits to Amsterdam. At which he made a great impression on all present because of his positive attitude to life and his strong spirit at his high age.
Also, he made the history of a small part of the Second World War human and imaginable.
See also:
Memorial Website for John ,
My Hero John Tayloe,
John Tayloe und das Tagesbuch der Anne Frank (PDF in German).