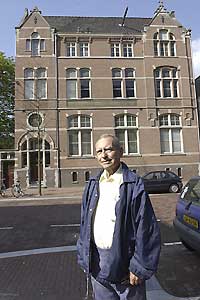 John Tayloe on the spot where the bomber crashed.
(Picture: Elsbeth Tijssen)
In April 12th 2005 I, Emiel Ros, received an email from Marga Eeltink in which she wrote: "Just now I received your information, forwarded to me by the NIOD [The Dutch Institute for War Documentation]. One of the occupants of the plane is visiting me from the 21st to the 25th of April."
Marga was well acquainted with John Edward Tayloe's descent in Ilpendam, but less so with the crash in the Westzaanstraat in Amsterdam. And I was not too familiar with the descent of the three crew in Ilpendam. On the 22nd of April I drove to Ilpendam and met Marga, Ber Eeltink and John Tayloe. The next day we met again in the Westzaanstraat area where I acted as guide. This is my report on what I experienced to be a tremendously exhilarating encounter.
John Tayloe was a aircrew member in the American Air Force and Truus Jonk worked in the Post Office in Ilpendam. Sixty years on they returned to the spot where he descended by parachute before his plane crashed. Marga Eeltink, Truus's daughter, had invited John over to Ilpendam. Back to the roots of a lifelong friendship. The war veteran was surprised at the interest shown in his story, a story he rarely recounted back home. Now that his wife had passed away he said that he wished to return once more, 60 years after his release, to lay his story to rest. "At long last I can talk about it. This feels good".
Parachute over Ilpendam
"I didn't feel like a hero", says John. "You got to appreciate that I was just 20 years old back then in 1944. I hated walking and so I joined the Air Force. It seemed quite OK and it felt adventurous being a member of a crew of ten manning a brazen B-17G. That morning we took off from Rattlesden Army Airport to lay a few 'eggs' on Berlin and that all went well."
After a successful bombing raid in the Berlin area on March 22nd 1944 the formation headed for home. John's plane, a Boeing B-17, the almost invincible sounding 'Flying Fortress' model, would never make home base. On the way back the plane was hit by German anti-aircraft guns.
"The plane was hit so bad it looked like a collander", says the 80 year old veteran now with a laugh. "Two engines conked out and we lost altitude. Initially there were ten of us in the plane. The remaining five of us hoped to reach England." In vain, as it turned out.
They made an attempt to head for the Channel. The plane was in such bad shape, however, that that didn't work. The Flying Fortress was heading straight for the centre of Amsterdam. When over Ilpendam John and two others decided to jump out of the plane. He had no fear of what was in store for him. "We didn't have time for that. I was glad to get out. Moreover, it was the first time that I parachuted."
Arrested near the Post Office
John landed up in the meadow behind the Post Office in Ilpendam and was later arrested by the Sicherheitspolizei (the German Security Police). The local people of Ilpendam were highly agitated when the American pilot came walking down their main street, accompanied by two Germans. Truus quickly shut the door of the Post Office, where she worked. "A friend had turned up. I had to do something." She decided to approach her 'friend' and ask him for his name and number.
"On the main street I embraced the airman and one of the Germans", Truus continues while opening a photo album. She started a conversation with the airman and asked him for his name and number. "I don't know where I got the audacity from" she laughs, "I just did it. And everyone was astonished."
"That was fantastic. She was the first person that I could talk to. She was the only person who spoke English. In some way that gave me hope" said John.
Truus wrote a letter to John's parents telling them that he had been arrested. "When requesting permission to send the letter I appealed to the Germans' sense of honour, that they were always talking about" she wrote in a report about the incident. "Surprisingly, the Germans kept their word and the letter reached California." His parents were very thankful for the letter. A long enduring friendship ensued.
Marga Eeltink says that her mother, Truus, really wanted to return to that place in Ilpendam in spite of her frail health. "What we'll see there is of course a mystery to John."
The landing spot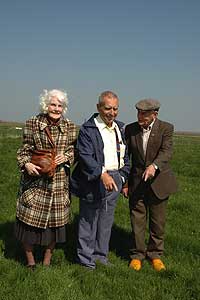 Truus Jonk, John Tayloe and Mijndert Beets point at the landing spot.
(Picture: Boudewijn Weehuizen)
Meindert Beets (90) indicates the spot in a meadow belonging to farmer Leguit, between Ilpendam and Purmerend. "I saw him come down over there somewhere. I was working on the other side of the drainage canal. I saw it happen."
Meindert climbs over the fence, unimpeded by his age. John also steps into the meadow, accompanied by Truus. "I thought it would all be built up by now, after these 60 years." John is obviously quite amazed. "It's good to be back here again."
After the meadow they walk the route that John walked when he was arrested. The Post Office is gone. Truus ascertains: "The whole building is gone". A photo is taken which can be added to the others in the album. Back at the spot 60 years on. "It's a special place I won't forget in a hurry", says John.
They stop for beverages at Café Het Wapen van Ilpendam. Everyone on the terrace listens to the fascinating story.
The crash site
John is back in Amsterdam for the first time since he was imprisoned there for a week in 1944. "I'm happy to be back after such a long time." John walks down Westzaanstraat with his guide Emiel Ros and host Marga Eeltink. Emiel points out the new buildings in the space once occupied by the Saint Alfons School. "That's where the B-17 bomber came down on March 22nd" says Emiel who witnessed the accident when he was six. John listens and laughs occasionally. He enjoys the anecdotes.
John Tayloe (r.) is handed documents about his bomber by Emiel Ros (l.). Amongst which a copy of the Missing Air Crew Report.
Watching in the background are Ber and Marga Eeltink.
(Picture: Elsbeth Tijssen)
"I didn't even see 'my' B-17 crash. I heard later that the plane came down on a school, from the pilot with whom I was imprisoned" says John. It's not clear where the five crewmen were held captive in Amsterdam. A number of possible buildings were visited. John recognised the Prins Hendrikkade and the Naval School, but to no avail. According to him it was an old building with large cells and an courtyard with large wooden gates. Gates large enough for two trucks to drive through simultaneously.
"Our conditions weren't too bad." Later he was moved to the POW camp Dulag Luft in Germany.
Good memories
"We were quite well-off in the camp. I was assigned to the mess and that meant that I never went hungry."
"I really only got scared when the Russians came to liberate us because the soldiers who stormed the place were women. Not little ones but tanks that smashed everything up."
"You know" says John thoughtfully, "I really only have good memories about the war. That's why seeing Amsterdam again is a happy occasion for me."
One of those good memories is of an old sauerkraut cask in their barracks in the POW camp, into which they threw fruit they couldn't use. After a while it began to ferment and the contents began to taste of alcohol. After some experimenting they produced a kind of wine. But the guys wanted something stronger. They received cans of powdered mild from the Red Cross. Helped by guards who procured copper piping and empty tins they succeeded in building a still which produced a very good tasting whiskey, as was also the opinion of those guards who had helped, says John. In the evening the commandant would also come and enjoy the taste.
After visiting Ilpendam and Amsterdam John traveled on to Frankfurt am Main where he joined other veterans in visiting Durlag Luft, an interrogation camp for POWs. "I certainly have a great story to tell."
I detest shooting
Not long after the three crewmen bailed out over Ilpendam, the remaining two jumped from the plane over Amsterdam where it crashed. Anne Frank lived only 500 metres from the corner of the Korte Prinsengracht and the Brouwersgracht, where a German Kriegsmarine warship lay for servicing to its engine, which also shot at the plane. On Thursday March 23rd 1944 Anne wrote the following in her diary about the incident:
"Dear Kitty, a plane crashed closeby yesterday. The occupants jumped in time and landed by parachute. The plane crashed on a school in which there were no children. There was only a small fire and a few deaths. The Germans shot terribly at the descending airmen. The Amsterdammers who were watching were up in arms about such a cowardly deed. We, I mean the ladies, were shocked to pieces, I detest shooting."
John Tayloe: "Only at that moment when I saw that March 23rd date in the book, I realised something. I had become a part of history."
Based on reports on the visit which appeared in the Dutch newspapers Noord Hollands Dagblad (April 22nd and 23rd 2005) and Het Parool (April 23rd).
Editors: Emiel Ros en René Ros
English translation: Gerald Tros (020-6739632)
Pictures were kindly provided by Elsbeth Tijssen (freelance photographer) and Boudewijn Weehuizen (Prettig Weekend newspaper).