This page contains images about the bomber, her crew and the crash.
Post-war picture Saint Alfonsusschool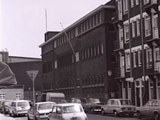 An image of the St. Alfonsusschool, after repair of the damage. Probably taken around 1950.
Damage Sint Alfonsusschool
De following three pictures were taken bij Foto-Schreuder in 1944. Prints were made available by Johan Degenkamp, Amsterdam. They show the damage to the schoolbuilding after removal of the airplane.

The spot were the bomber hit the Sint Alfonsusschool.


The hallway were the B-17 hit the school.
At the right are the houses Westzaanstraat 26-28, of which the toplevel was partially damaged by fire.


View of the roof of the school were de left wing ended up.
Luitenant Edward Welling Stull, Pilot
The images below show Luitenant Edward Welling Stull (1918-1992), the pilot of the bomber. These pictures were kindly provided by his son, Richard Stull.

Portrait, 19??


In Texas, 19??


The crew in front of a B17 in 1944
Front l.t.r.: Stull, Snowalter, Geis, Crace, ?
Back l.t.r.: Stoyer, Eventosch, Zommer, Barry, Sanchez, ?.


Certificate of the Caterpillar Club, for those whose live was saved by the use of a parachute.


The warmedals


Edward Stull visits a B17, 1992